May 19 2013 – Follow Me – Message (MP3)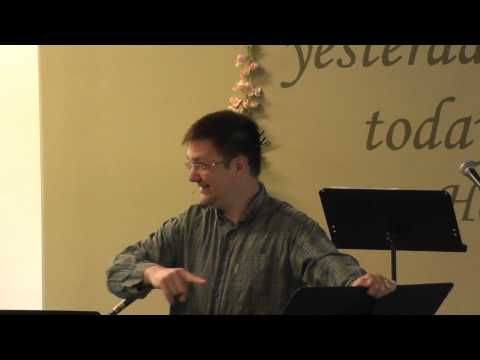 ( Click on video above to Play )
                When you look at the Gospels here are a few of the analogies that Jesus uses:
Father/ child

Vine/ branch

Shepherd/ sheep
Matthew 9:9  "As Jesus went on from there, he saw a man named Matthew sitting at the tax collector's booth. "Follow me," he told him, and Matthew got up and followed him."
Tax Collectors
Despised by Jews (Traitors)
Job was

up for auction.

They take their area and

hire out others to collect the taxes

They give to Rome what they ask and the tax collector

keeps the rest.
Matthew 9:10  "While Jesus was having dinner at Matthew's house, many tax collectors and sinners came and ate with him and his disciples."
Who was at Matthew's house?
Other tax collectors

Sinners
Jesus was extraordinarily comfortable with people who weren't anything like him
God loves the

anti-religious

God loves the

sinners and the outcasts

God makes these people feel

cared for
Here is how we often come to accept people:
They look like us

They act like us

We accept them
It should be:
We accept them

They begin to act like us

They begin to look like us
What were Jesus' requirements of Matthew?
Matthew 9:11 "When the Pharisees saw this, they asked his disciples, "Why does your teacher eat with tax collectors and sinners?"
Matthew 9:12  "On hearing this, Jesus said, "It is not the healthy who need a doctor, but the sick."
Those who recognize they are broken and sick are perfect candidates to follow Jesus.
Matthew 9:13 "For I have not come to call the righteous, but sinners."
Jesus reaches out to people who believe wrong and act wrong.
John 16: 29-31 "Then Jesus' disciples said, "Now you are speaking clearly and without figures of speech. 30 Now we can see that you know all things and that you do not even need to have anyone ask you questions. This makes us believe that you came from God."
31 "Do you now believe?" Jesus replied.
There is a difference between following and trying to do the right thing
One has the focus

on the person

The other has the focus

on the rules
IF WE START FOLLOWING JESUS AND LOVING HIM WE WILL BEGIN TO CHANGE
Four things about following:
Being a sinner

is a prerequisite

and not discouraged
Being an

unbeliever does not disqualify

you from church
An invitation to follow is about

having a relationship

Following forces me to focus

on where I am

rather than

where you are not.
When we stop following…
We begin

evaluating

We become

critical and judgmental
Audio clip: Adobe Flash Player (version 9 or above) is required to play this audio clip. Download the latest version here. You also need to have JavaScript enabled in your browser.
The following two tabs change content below.
Microsoft Small Business Specialist Microsoft Certified Professional (2007) A+ Certified (CompTIA)
Latest posts by Wayne Wymore (see all)